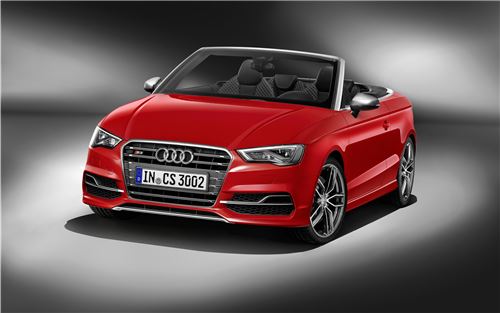 Audi lifted the curtains off the details for the all-new powerful 2015 Audi S3 Cabriolet. The open-top 4-seater gets its 300hp of power and 380Nm of max torque from a 2.0 TFSI engine. The engine is matted to all-wheel quattro permanent drive for optimal performance output.
On the exterior the new S3 Cabriolet looks stunning and sporty. Compared with the Audi A3 Cabriolet (combined fuel consumption in l/100 km: 6 - 4,2 [39,2 - 56 US mpg]; combined CO2 emission in g/km: 140 - 110 [225,3 - 177 g/mile]), the body is 25 millimeters (0.98 in) lower due to the S sport suspension.
Draped completely in black, the interior of the S3 Cabriolet has a clean, elegant appearance. As with every Audi, its operation is easy and the finish is of superior quality. There is room for two adults in the rear, and the easy entry feature makes getting in easier. The 285 liter (10.06 cubic ft) luggage compartment can be expanded by folding down the rear seat backs; its volume is 245 liters (8.65 cubic ft) when the top is down.
Delivery of the S3 Cabriolet in Germany will commence in summer - for a base price of 48,500 euros.